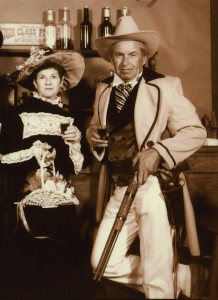 Bertha & Martin Glaser
The Martin & Bertha Glaser Memorial Award, established in 1998 as the Martin Glaser Memorial Award, is the highest honor in Antique & Amusement Photographers International. It is bestowed annually to a member who has given years of dedicated service to AAPI and the Old Time Photo industry. Recipients have worked hard to keep the highest level of excellence in our industry and continue to strive to reach new levels of accomplishment. Most of all, they have demonstrated an ability to maintain this unique sector of the photographic industry as a fun and respected photographic specialty.
Martin & Bertha Glaser were a tremendous source of encouragement and support to their son Jack Glaser when he opened his first studio in 1978. Jack honors his parents with his generous donation of this annual award.
AAPI is proud to congratulate the following recipients of this prestigious award…
Past Recipients: 
2020
2019
Laura & Doug Schirripa
ImageTech Marketing
2018
2017
Tim Burke
Old Time Photo Supply
Craig Schmidt
Craig Schmidt, The Mats Guy
2016
2015
Jeff Mulvihill, Jr.
Doc Wenzel's Old Time Portraits
Todd Corneil
Todd's Old Time Portrait Studio
2014
2013
Jack Kimmins
Old Time Photo Supply
Ruth Short
Short Takes Old Tyme Photos
2012
2011
Derrick Gillikin
Instant Ancestors, Inc.
Jack Glaser
Flashback Photos
2010
2009
Charlotte Thompson
Instant Ancestors, Inc.
Paul Gunn
Grandpa's Antique Photo Studio
2008
2007
Fay Cunningham
The Antique Photo Parlour
Scott Henry
Old Time Portraits
2006
2005
Mike Glasser
Buffalo Old Time Photo Co.
Ralph Berlovitz
The Victorian Photographer
2004
2003
Bill Vahrenkamp
Albertex Photography
John Ashley
Ashley Nostalgia
2002
2001
John Thompson
Instant Ancestors, Inc.
Brent Uzzo
Professor Bellows Photographics
2000
1999
Katherine Bloomer
Prof. Bloodgood's Costumes by Central Casting
Jim Miller
Yesteryears Photographic Emporium
1998
William & Joan Dailey
Western Photo Mount